In case you forgot....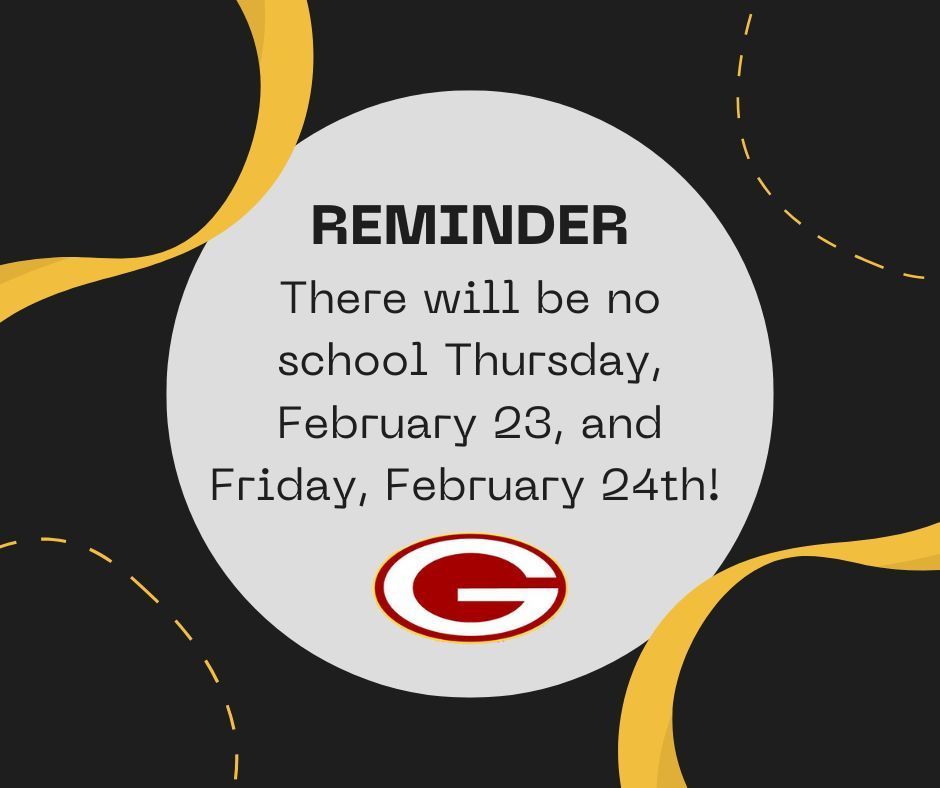 Congratulations to Cadence Kerner for winning the Walsh County Spelling Bee last Tuesday with the winning word Ramifications! She beat out 13 other spellers to claim the top title for the second year in a row. Cadence will now advance to the state level competition in Bismarck on March 20th. Way to go! We are Spoiler Proud of you!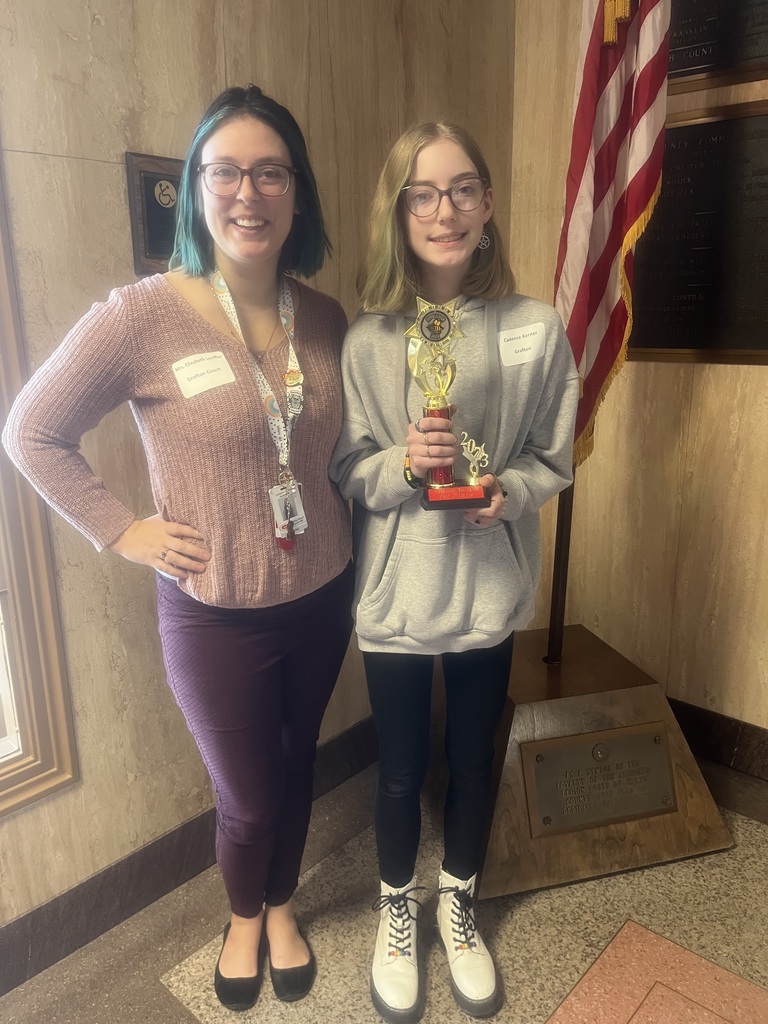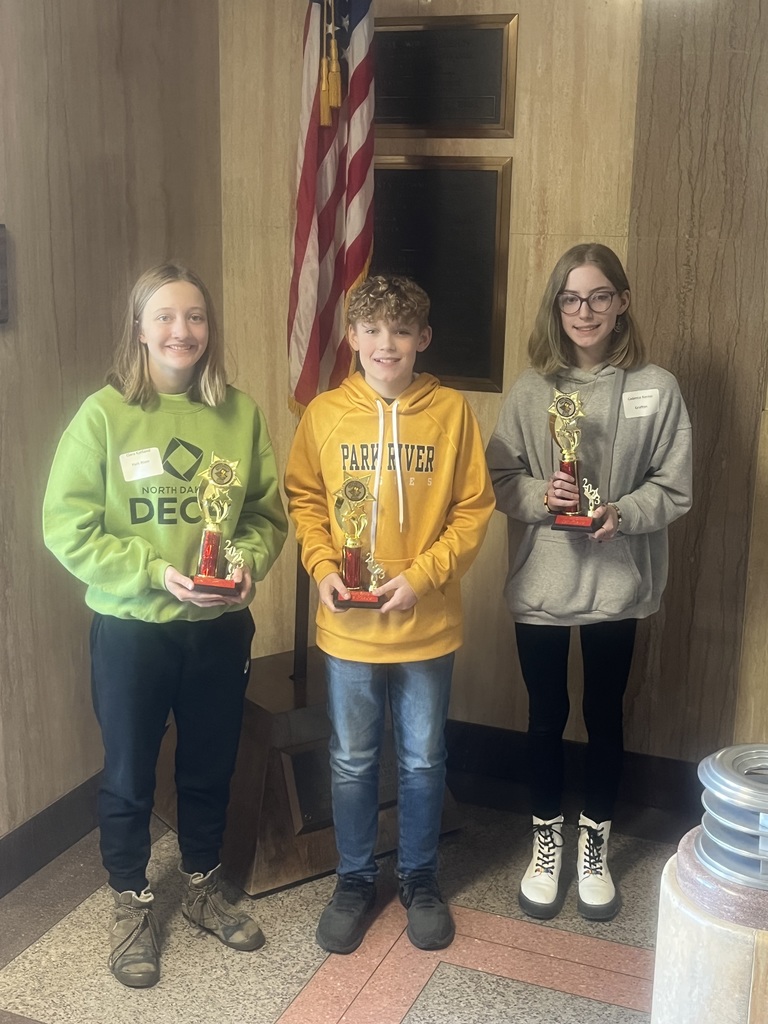 Congratulations to our February 6-10 and February 13-17 Spoilers of the Week!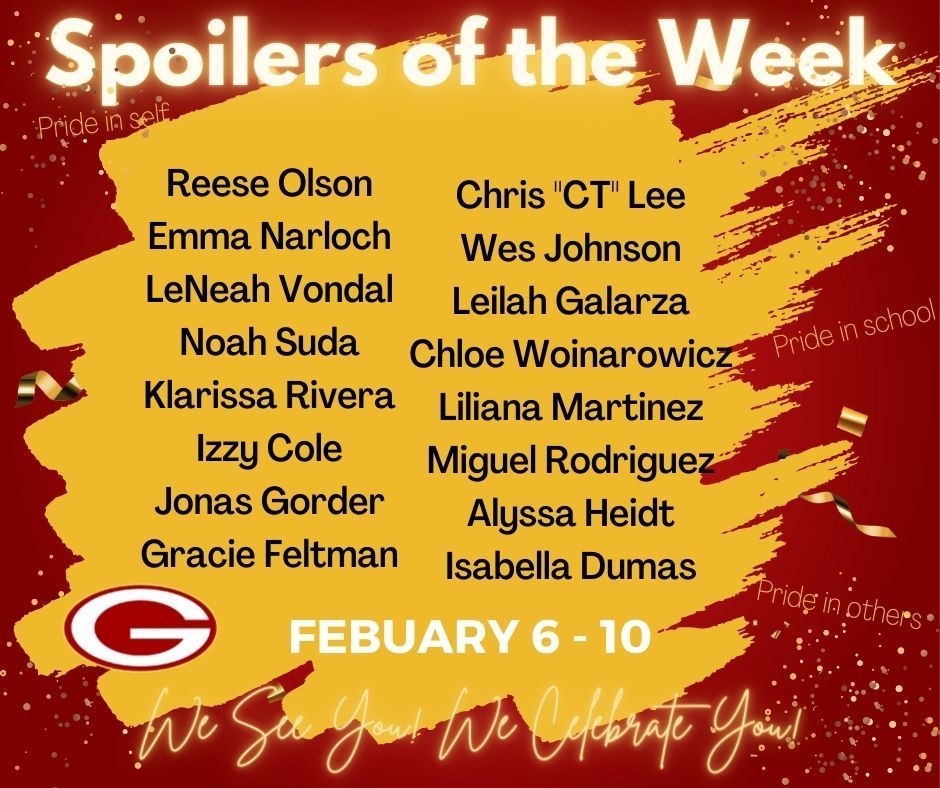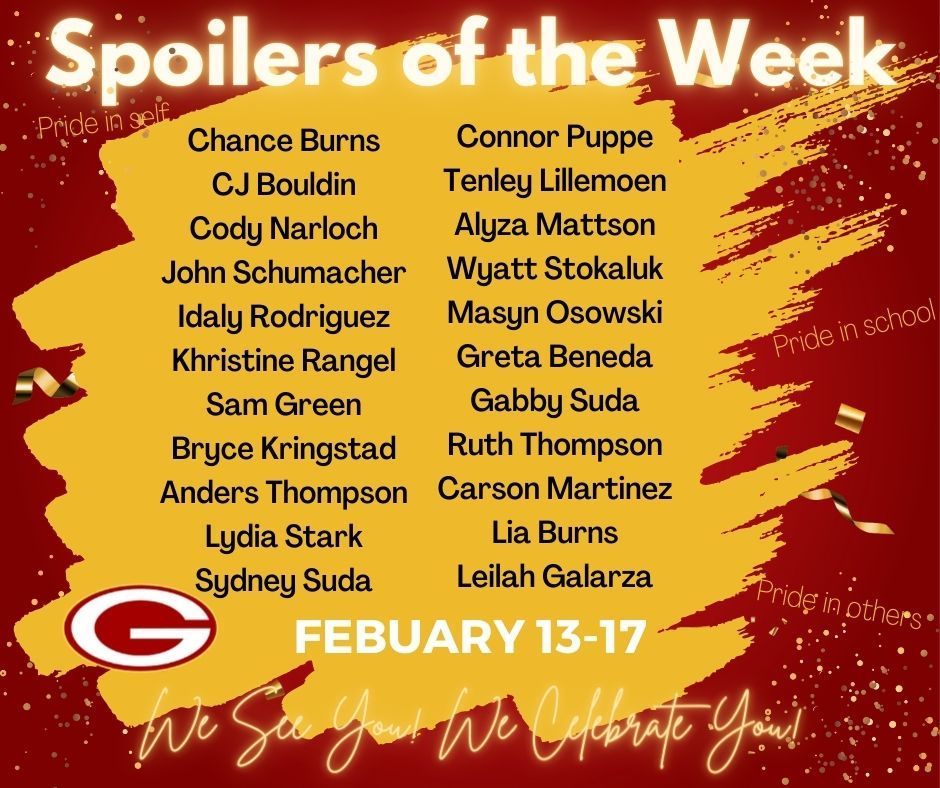 CONGRATULATIONS to 8th grader, Kailee Miller, who has qualified for the state MathCounts Competition! North Dakota is broken up into 10 regions with the top 8 individuals per region advancing to the state competition. Kailee finished in the top 8 among all test takers in Walsh, Pembina and Grand Forks County to move on to the state competition on March 27th in Bismarck. We are SPOILER PROUD of Kailee!
Congratulations to last week's recipients of Spoiler of the Week!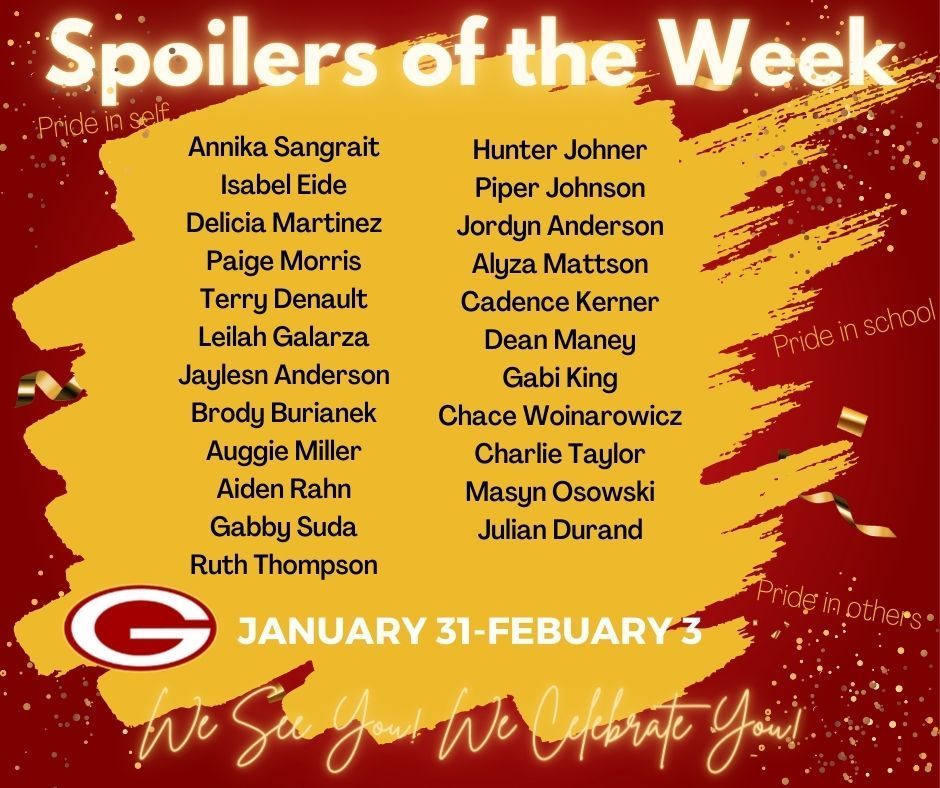 Another exciting event at the GPAC! Mark your calendars for FOB's spring play, Angel in the Night! See you April 3rd and 4th!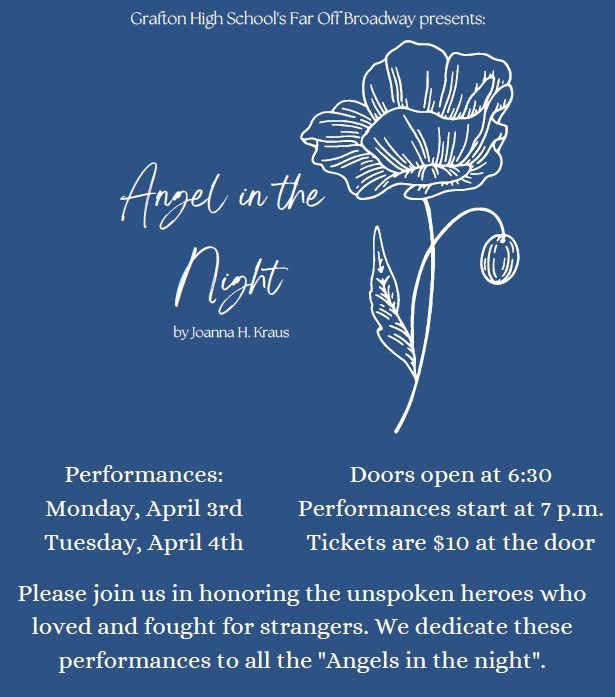 The Grafton Robotics Team and the Grafton Academic Team would like to thank Ellen Feldman and Ron Brockman for their generous donations of a combined $5,000 to assist these students in their upcoming competitions. Thank you! Go Spoilers!
Ellen Feldman and Ron Brockman, we appreciate your generosity!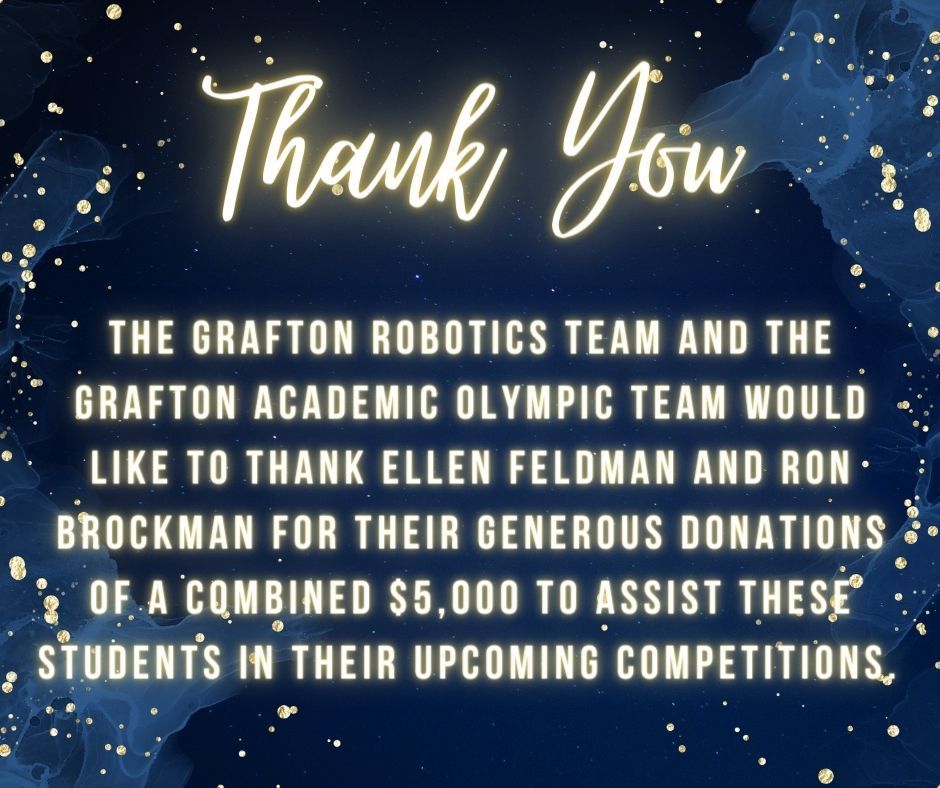 Mrs.Houdek's Spoiler mathematicians are bringing home the hardware from the math counts competition. First place team in Walsh County and first place and second place overall individuals. Spoiler proud!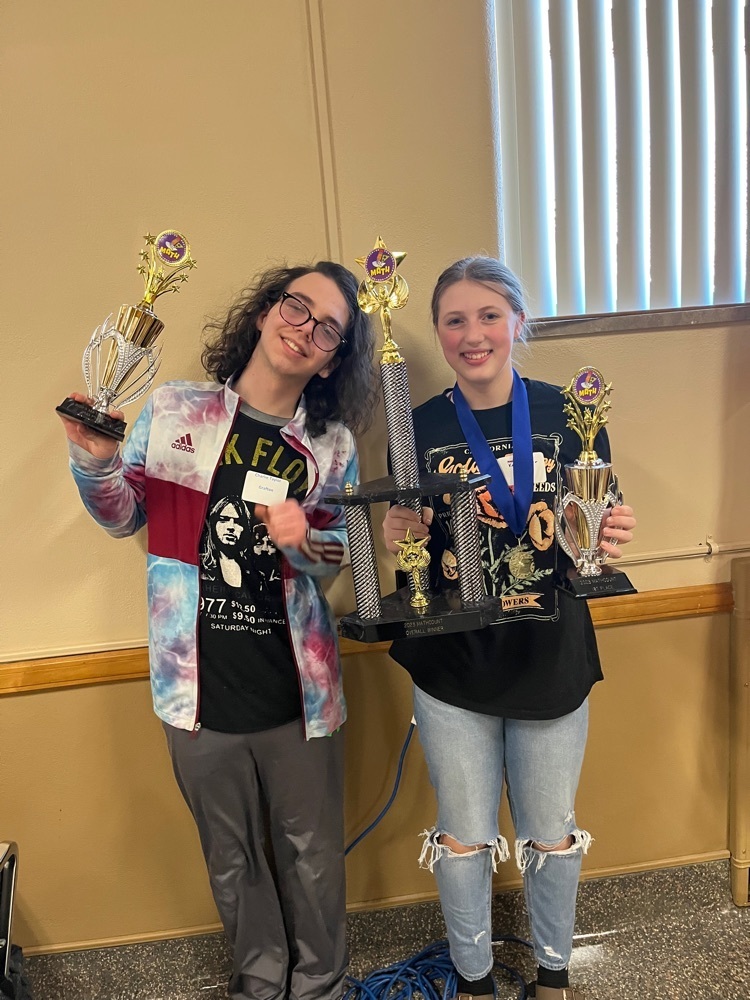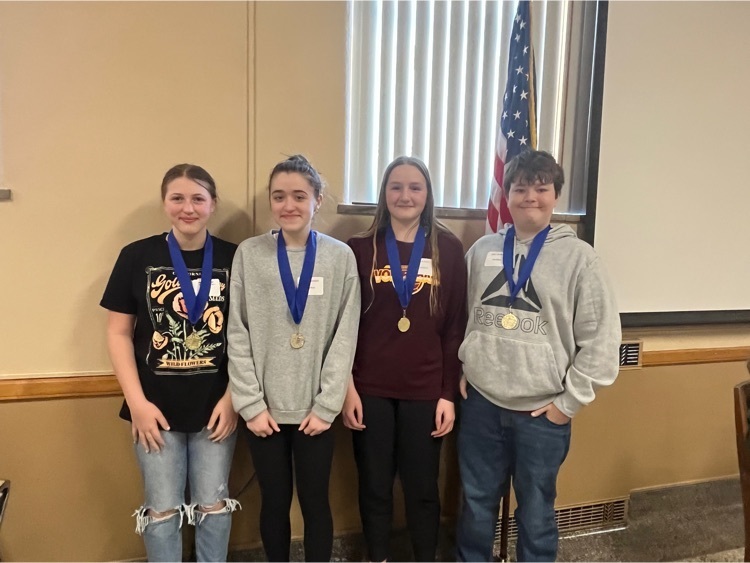 These Spoiler mathematicians are ready to compete today in the Walsh-Pembina County MathCounts competition! It's cold outside, but the competition will be heated. Good luck Spoiler Mathletes!!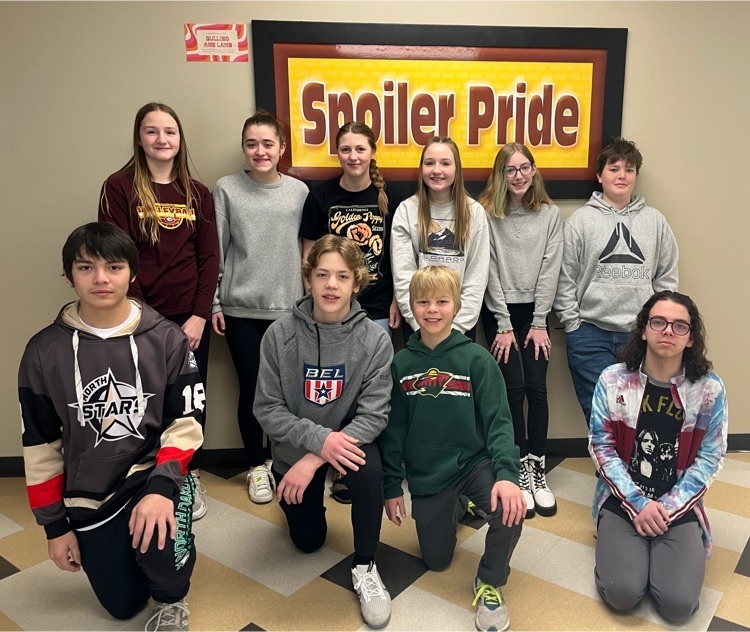 Congratulations to Brooklyn Christinson, Jackson Douville, Alyssa Heidt, Luke Heidt, Jesly Hernandez, Fadil Jamal, Cadence Kerner, Jaelyn Monson, and Max Sillers for competing in the school spelling bee. A special congratulations to our top four finishers (Max, Cadence, Luke, and Alyssa) for qualifying for the county spelling bee.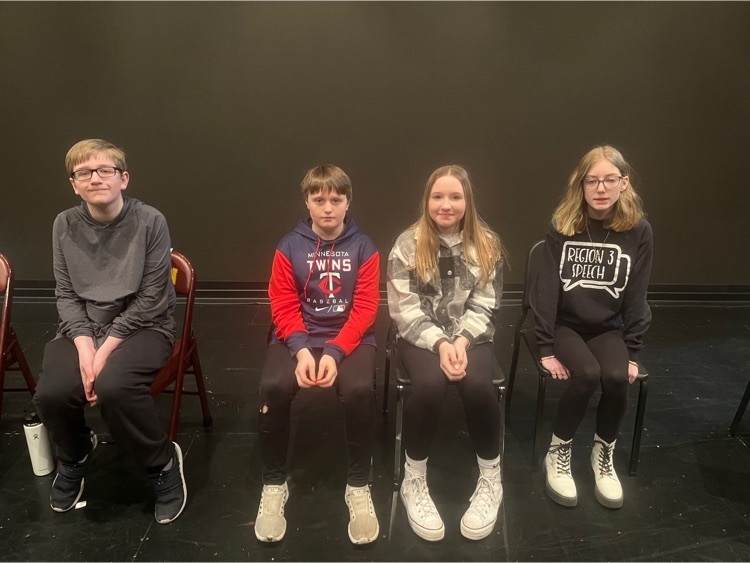 Check out this summer opportunity for 6th, 7th, and 8th grade students at the University of North Dakota!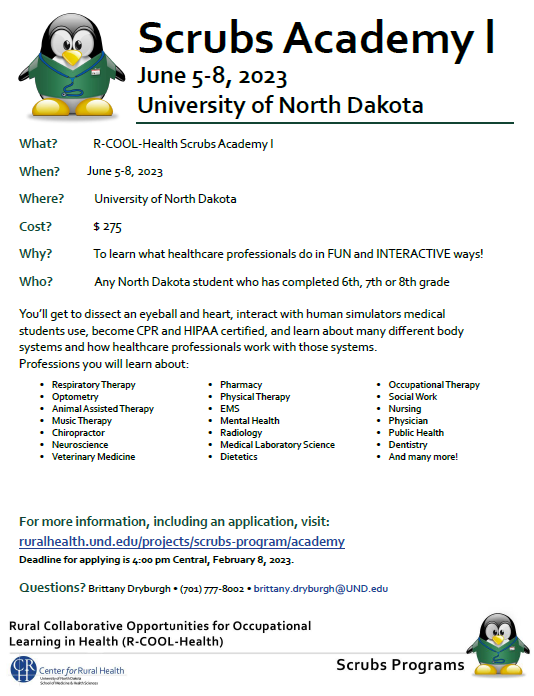 Grafton Middle School's Far Off Broadway invites you to "Be Our Guest" at Disney's Beauty and the Beast JR, Friday, March 10th at 7 pm and Saturday, March 11th at 11 am at the Grafton Performing Arts Center. The 60-minute musical, designed for middle-school aged performers, is based on the 1994 Broadway production and Disney's 1991 animated feature film. The 6th-8th grade cast showcases approximately 30 students and is directed by Mr. and Mrs. Loeffler.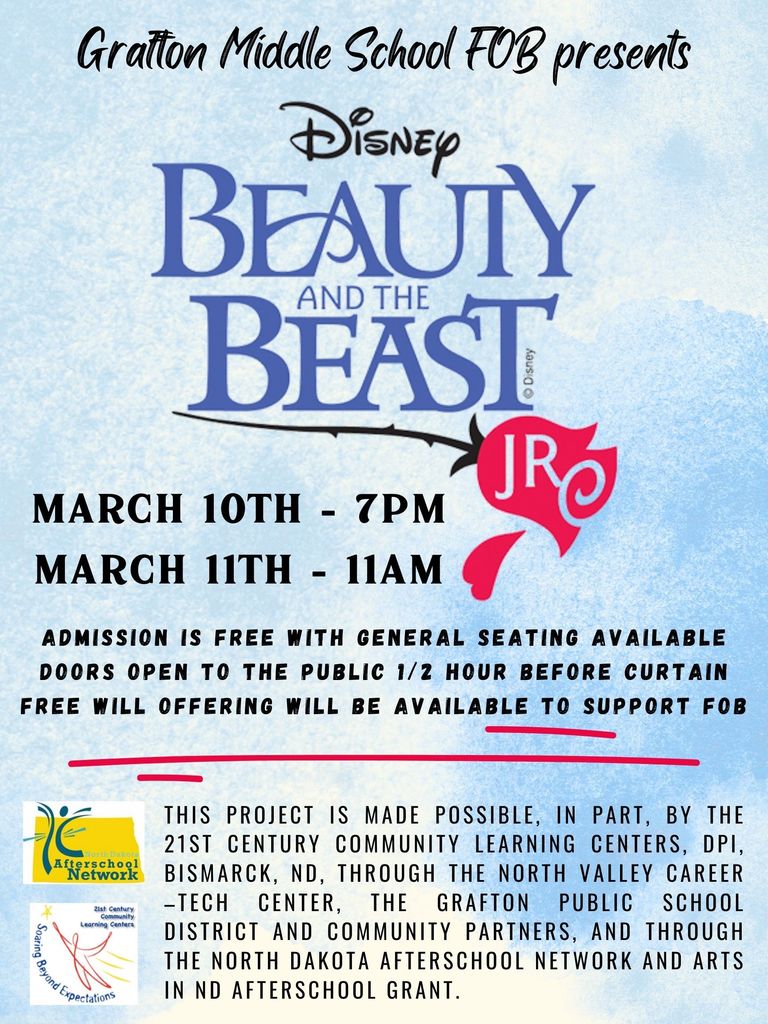 Congratulations to our January Spoilers of the Month, Ainsley, Bryce, Savannah, Reggie, Eithen, and Francis! Keep making our school a great place!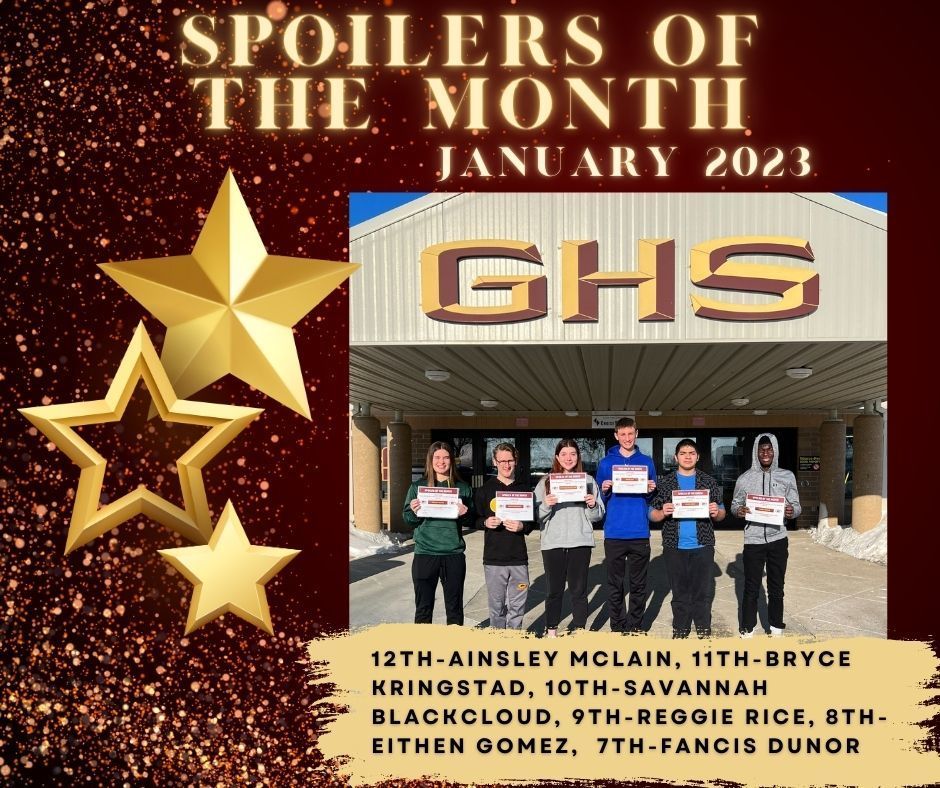 Take advantage of the long weekend and download the new Grafton Public Schools App and stay up to date on the daily menu, events, news, life feed posts and Spoiler Athletics. Go Spoilers!
Congratulations to our Spoilers of the Week - January 16-25
Congratulations to our January 9-13 Spoilers of the Week!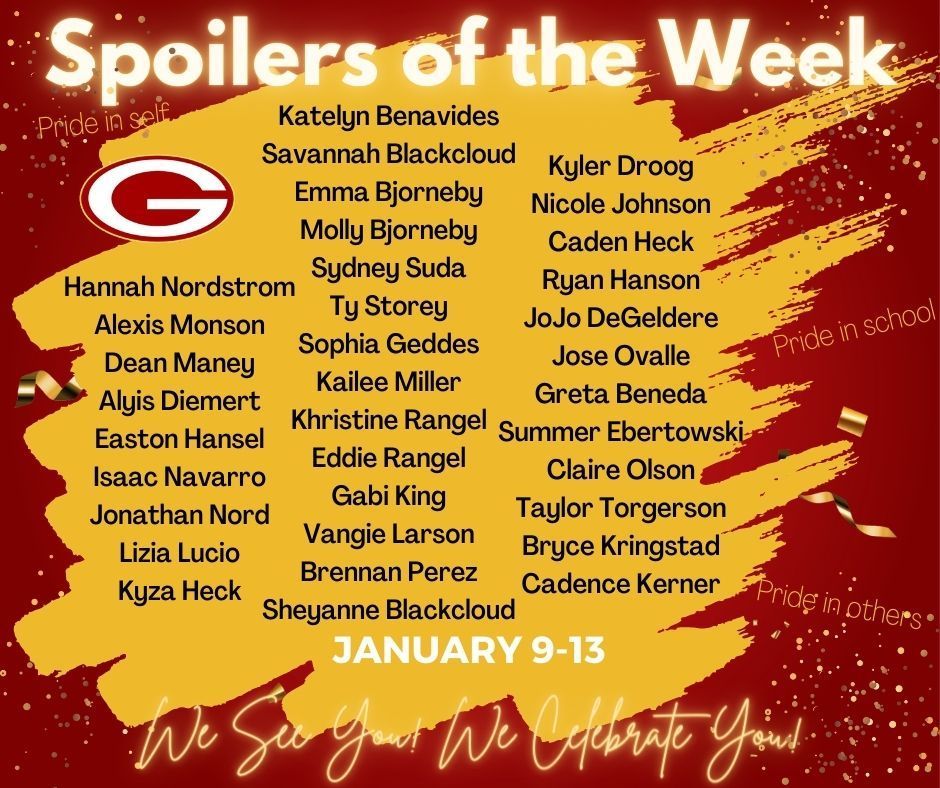 Come check out the Talent Show at the GPAC on Sunday, January 29! The freewill lunch is from 11:30am-1:00pm and the Talent Show starts at 1:00pm. Audience votes for Top Winners! Scan the QR Code to purchase tickets!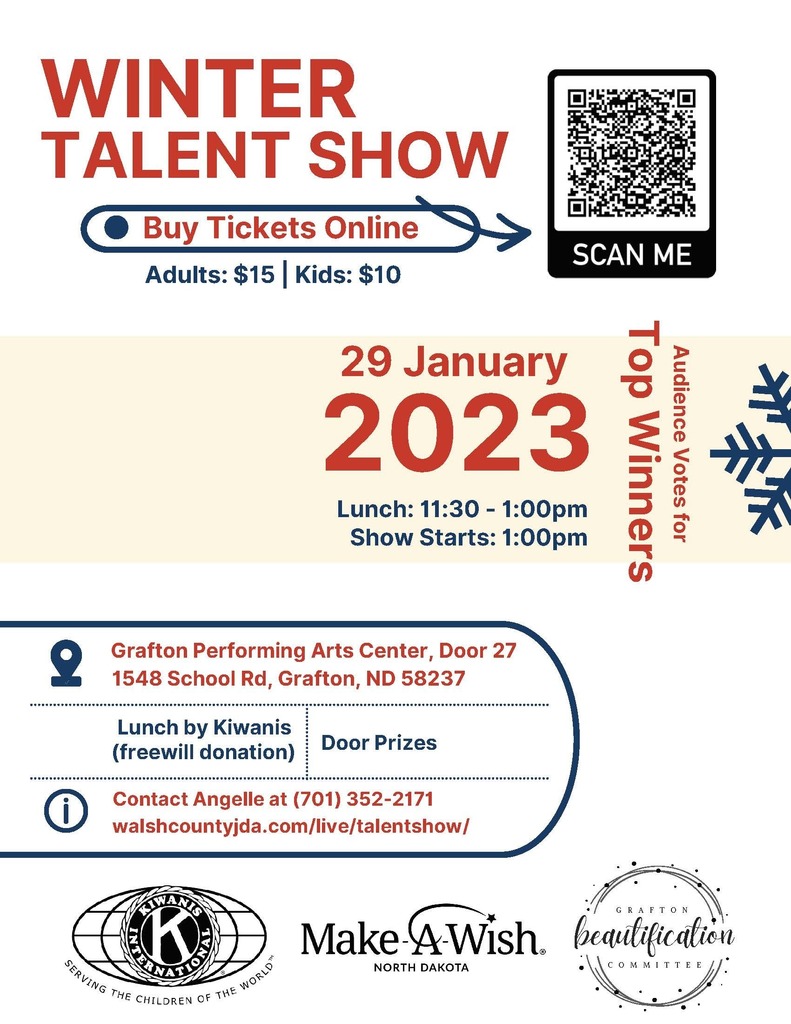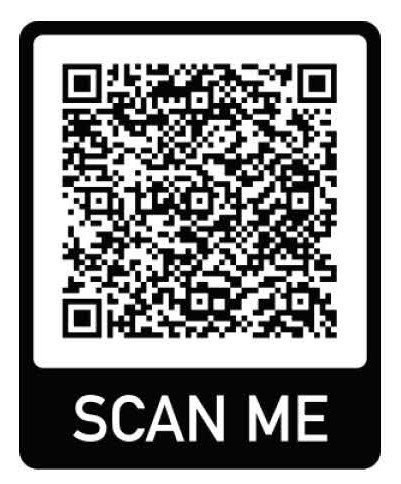 Mark your calendars for the winter talent show at the Grafton Performing Arts Center! This event is a fundraiser for Grafton Kiwanis, Grafton Beautification Committee, and North Dakota Make-A-Wish. This is not a school sponsored event, so please direct any questions to Angelle at (701) 352-2171. Tickets can be purchased at the link below or by scanning the code in the flyer.
https://walshcountyjda.com/live/talentshow/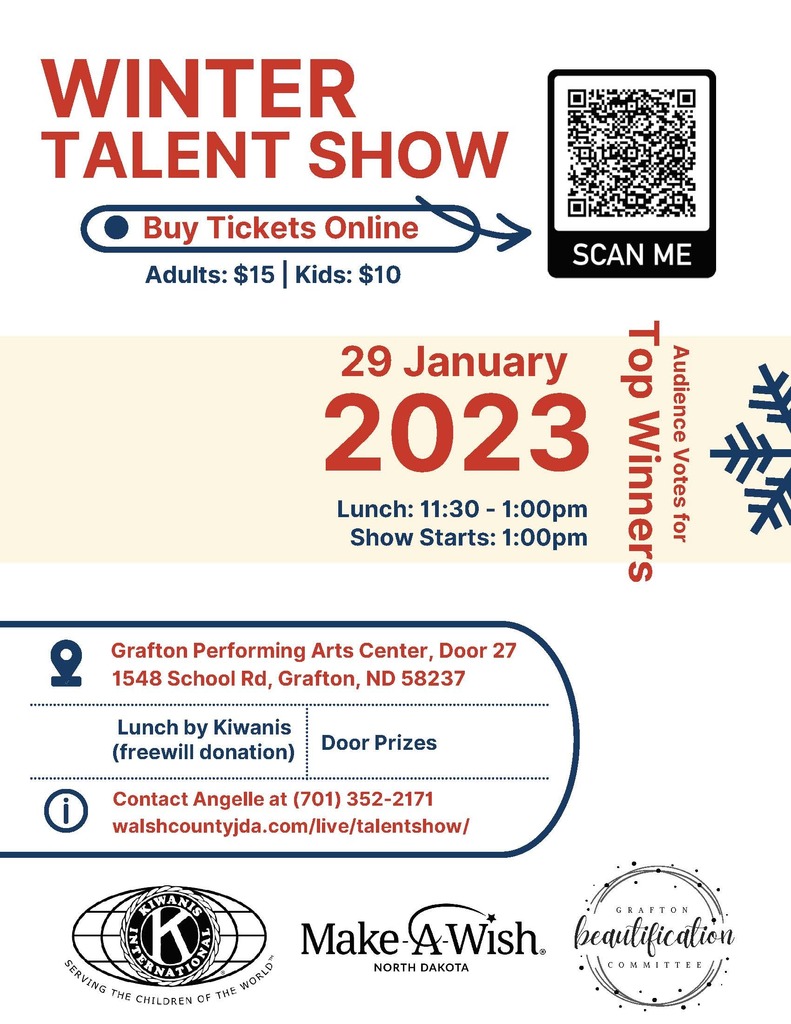 We're back! Congratulations to our Spoilers of the Week!