Congratulations to our March 20-24 Spoilers of the Week! Keep up the great work!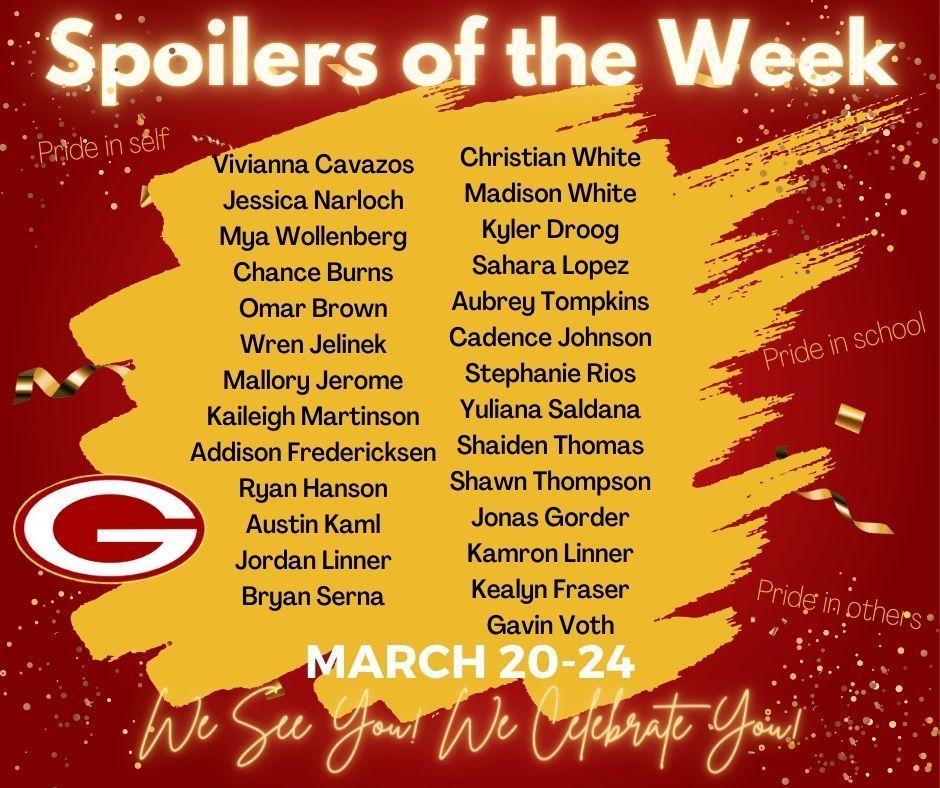 Cap and Gown hand out is rescheduled for Thursday April 13 @ 11:45 in the High School Library. Seniors will be taking home their graduation garb that day! REMINDER about Senior + Baby picture deadline is April 15. Please get those into Santana Kringstad at
santana.kringstad@k12.nd.us
or drop them off in the office. These will be used in the Senior slideshow and Yearbook.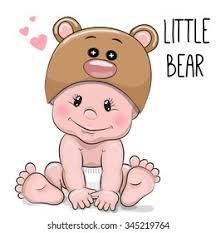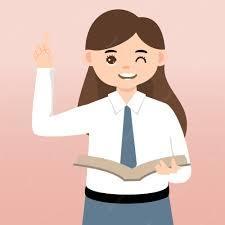 Congratulations to our March 6-15 Spoilers of the Month!
​We will be conducting the North Dakota State Assessment, Monday, March 20 - Friday, March 31, in grades 7, 8, and 10. We want to see all students perform their best! In order to do this, we are asking that students be in school, get plenty of rest, eat a good breakfast, and come with a charged chromebook. Sophomores will be taking one test each day (March 20-23), and 7th and 8th grade students will be taking their tests in their classrooms during their scheduled classes (March 23-March 31). Please see attached flyers for more detailed information!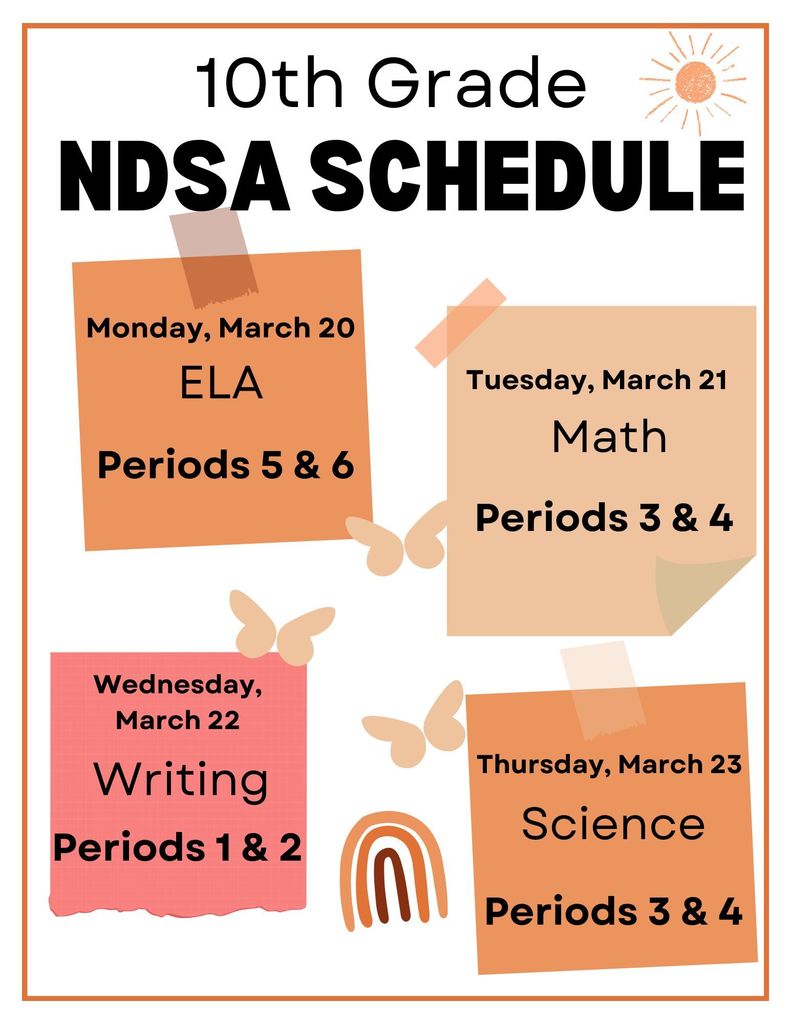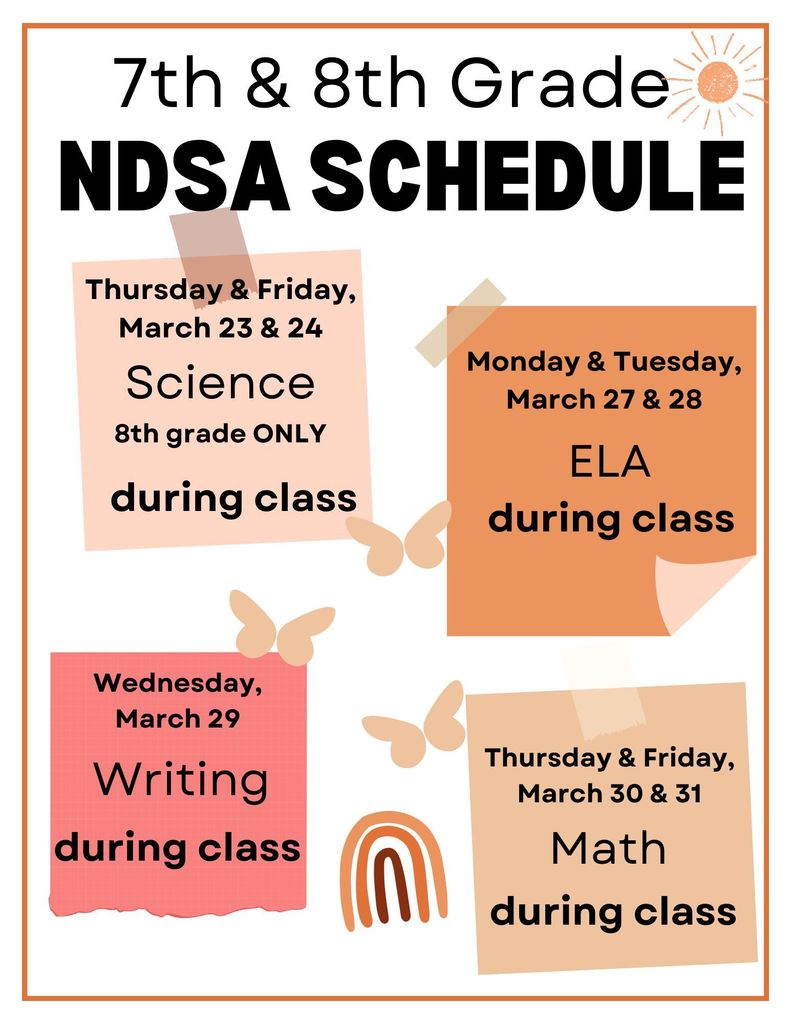 We are accepting applications for our Preschool Program for the 2023-2024 school year. Your child qualifies for preschool if he/she resides in Grafton or St. Thomas and will be four-years old by July 31, 2023. Please register here:
https://forms.gle/ujz9pmGsNCxHbrky5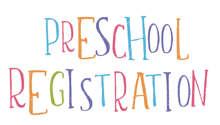 Congratulations to our February Spoilers of the Month! These students are chosen for consistently showing pride in self, pride in others, and pride in school! Keep up the great work! 7th grade - Greta Beneda 8th grade - Klarissa Rivera 9th grade - Isy Ladouceur 10th grade - Josie Suda 11th grade - Reese Olson 12th grade - Rhea Buensalido
Congratulations to our Spoilers of the Week for February 27-March 3!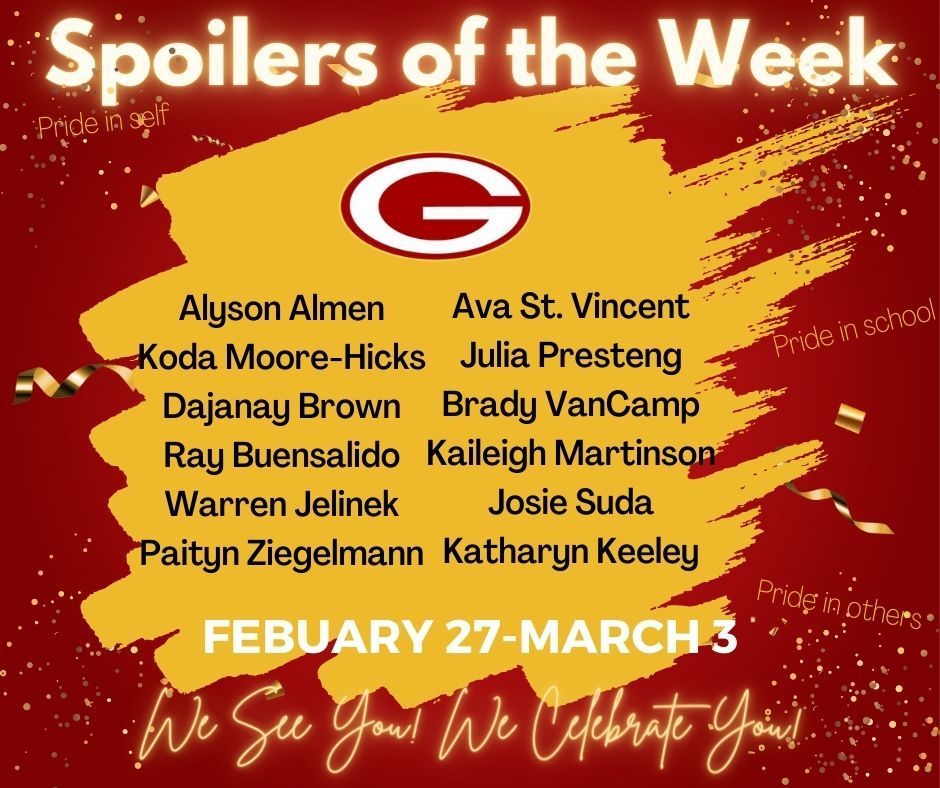 Good luck tonight, Spoilers!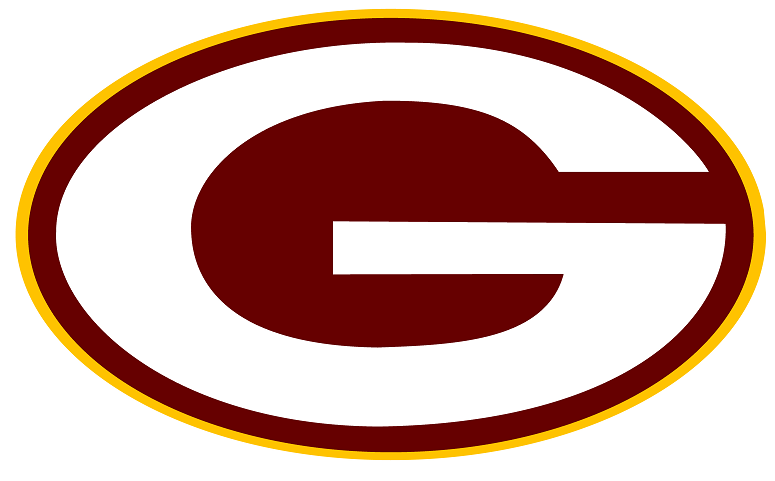 In case you forgot....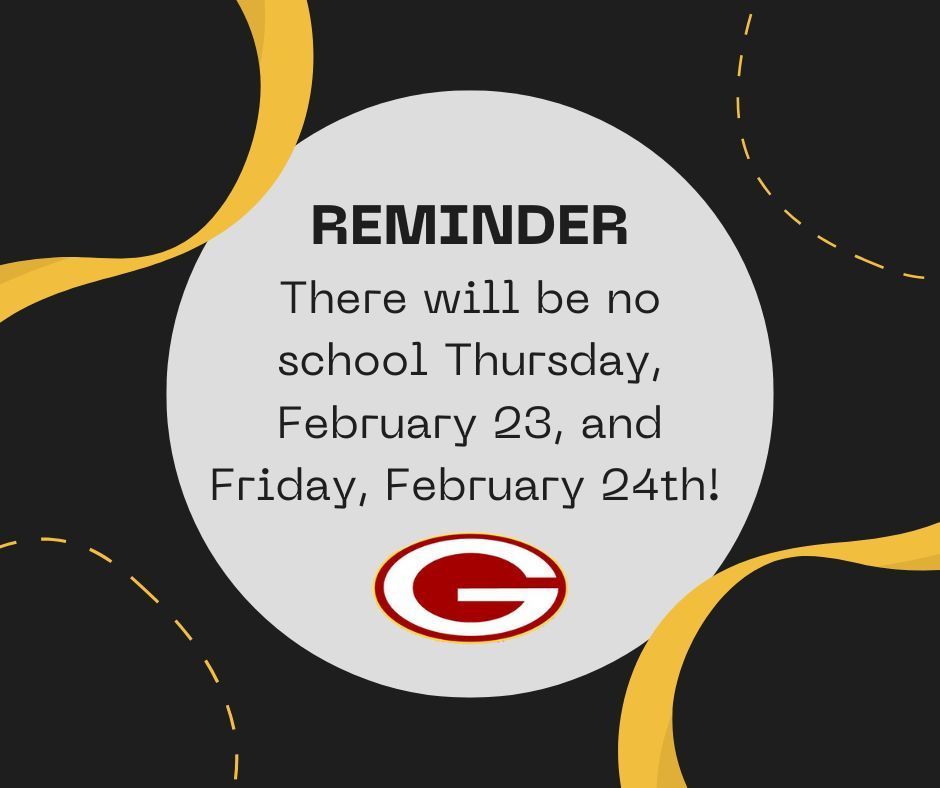 Congratulations to Cadence Kerner for winning the Walsh County Spelling Bee last Tuesday with the winning word Ramifications! She beat out 13 other spellers to claim the top title for the second year in a row. Cadence will now advance to the state level competition in Bismarck on March 20th. Way to go! We are Spoiler Proud of you!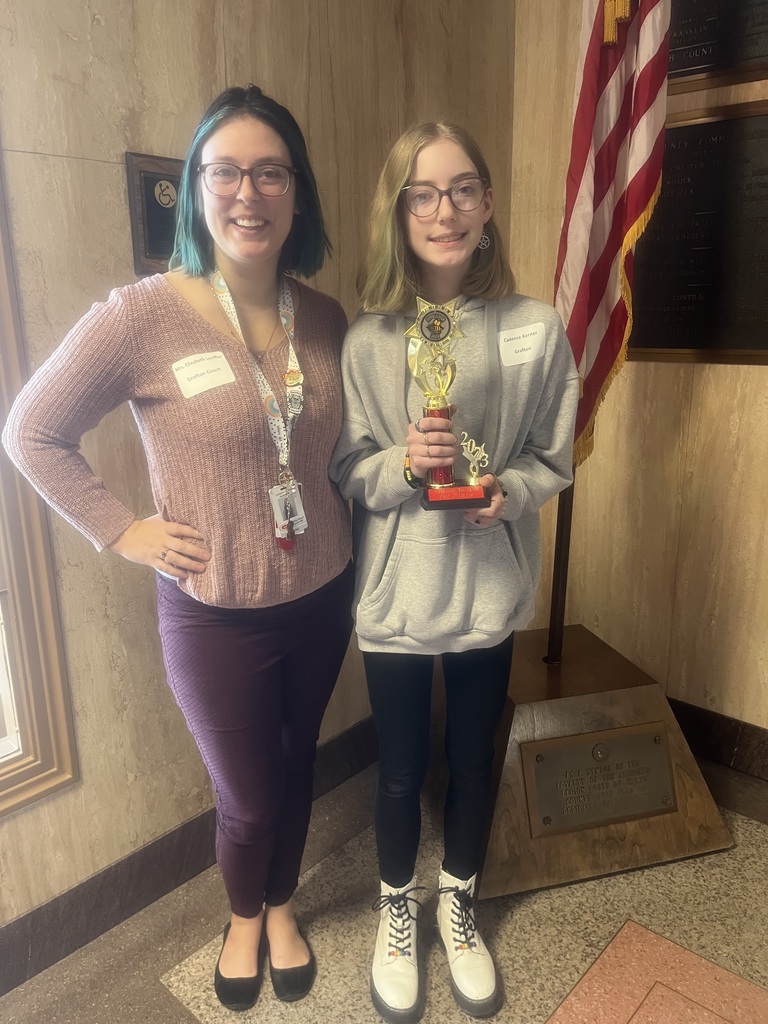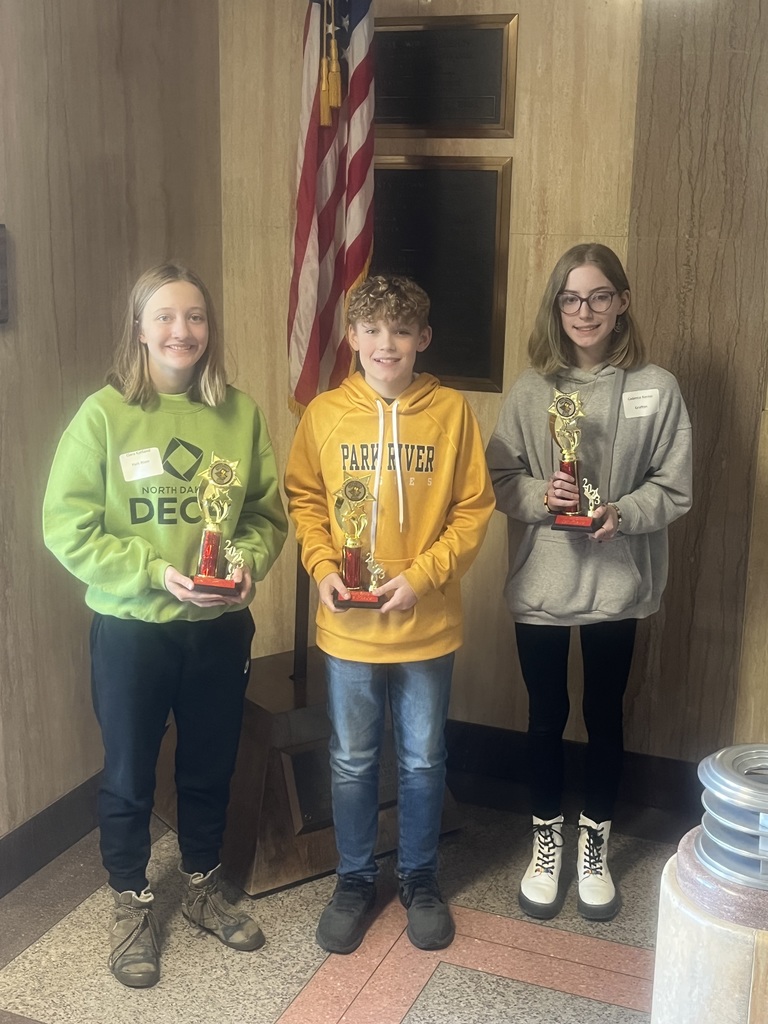 Congratulations to our February 6-10 and February 13-17 Spoilers of the Week!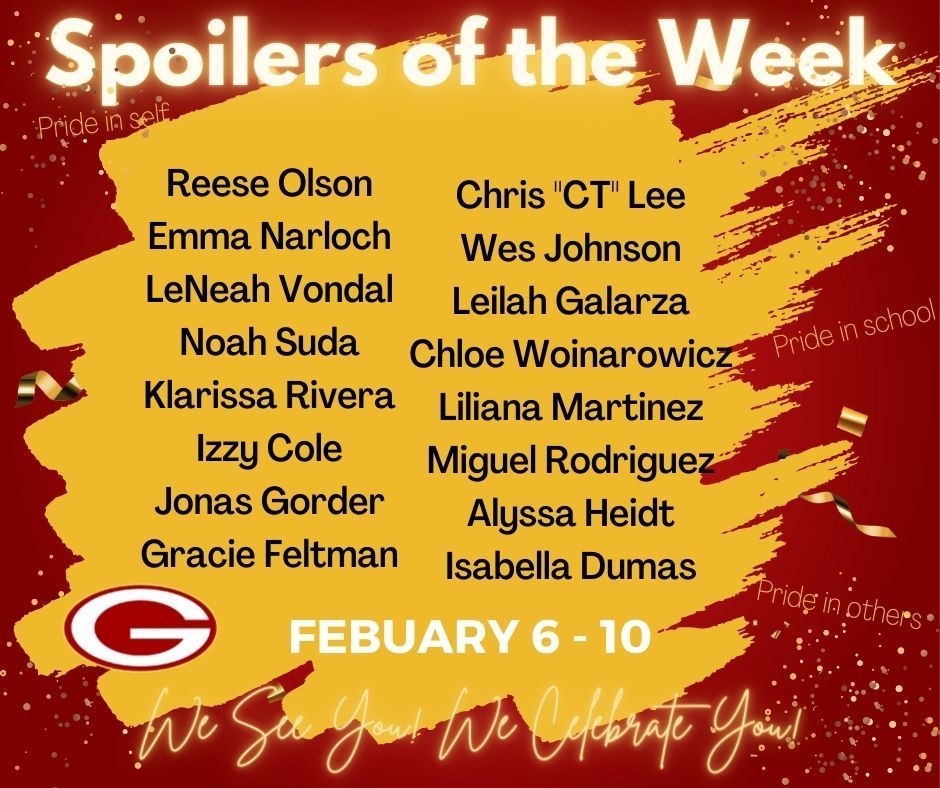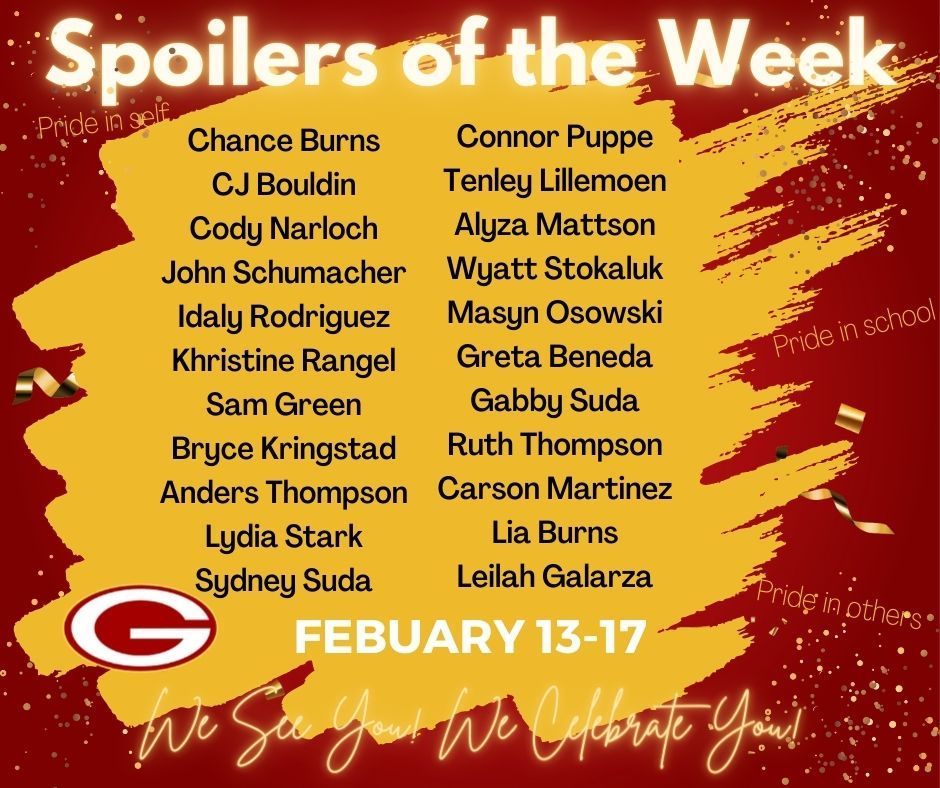 CONGRATULATIONS to 8th grader, Kailee Miller, who has qualified for the state MathCounts Competition! North Dakota is broken up into 10 regions with the top 8 individuals per region advancing to the state competition. Kailee finished in the top 8 among all test takers in Walsh, Pembina and Grand Forks County to move on to the state competition on March 27th in Bismarck. We are SPOILER PROUD of Kailee!
Congratulations to last week's recipients of Spoiler of the Week!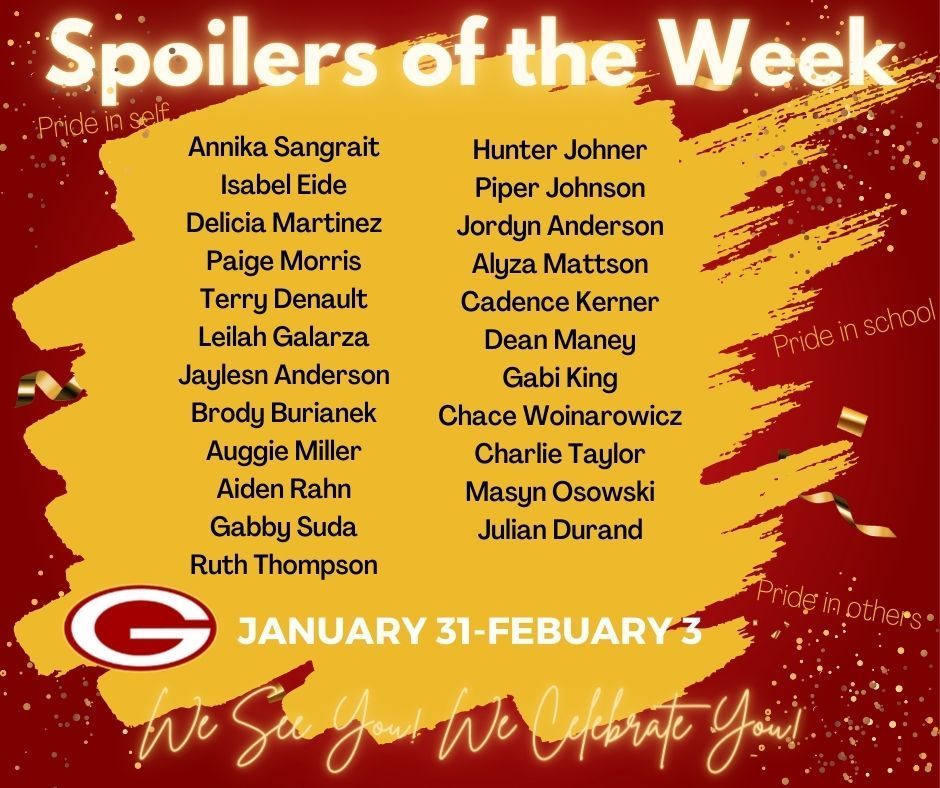 Another exciting event at the GPAC! Mark your calendars for FOB's spring play, Angel in the Night! See you April 3rd and 4th!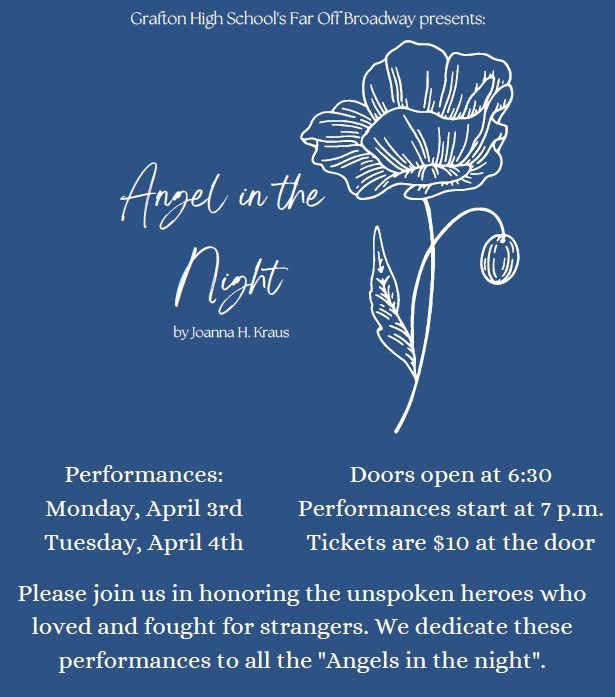 The Grafton Robotics Team and the Grafton Academic Team would like to thank Ellen Feldman and Ron Brockman for their generous donations of a combined $5,000 to assist these students in their upcoming competitions. Thank you! Go Spoilers!
Ellen Feldman and Ron Brockman, we appreciate your generosity!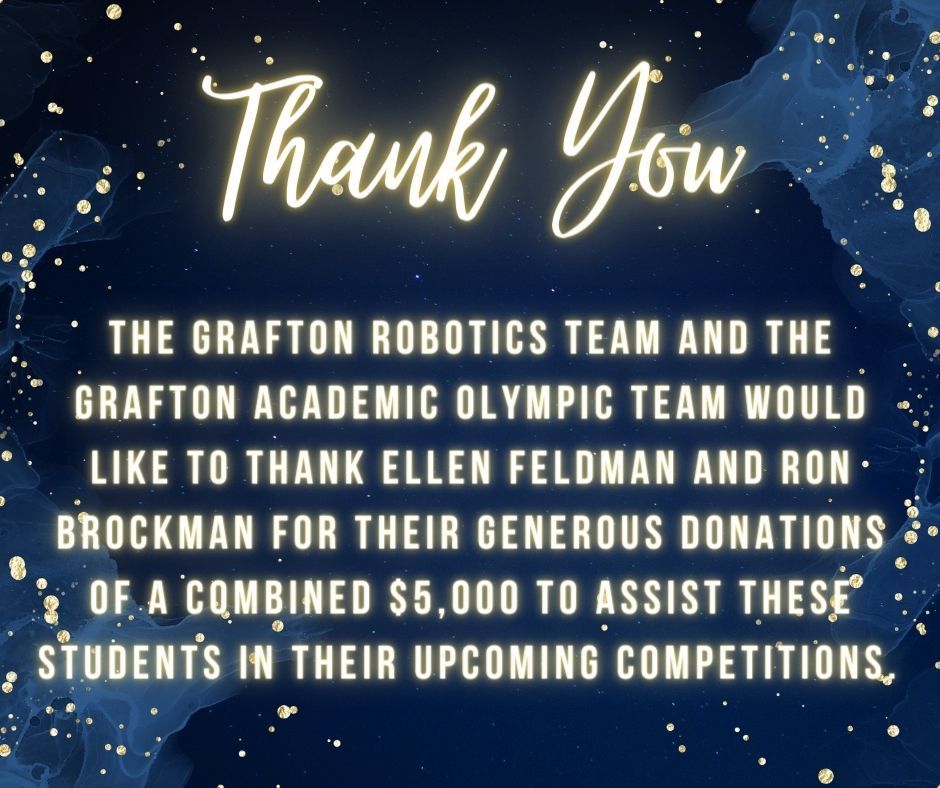 Mrs.Houdek's Spoiler mathematicians are bringing home the hardware from the math counts competition. First place team in Walsh County and first place and second place overall individuals. Spoiler proud!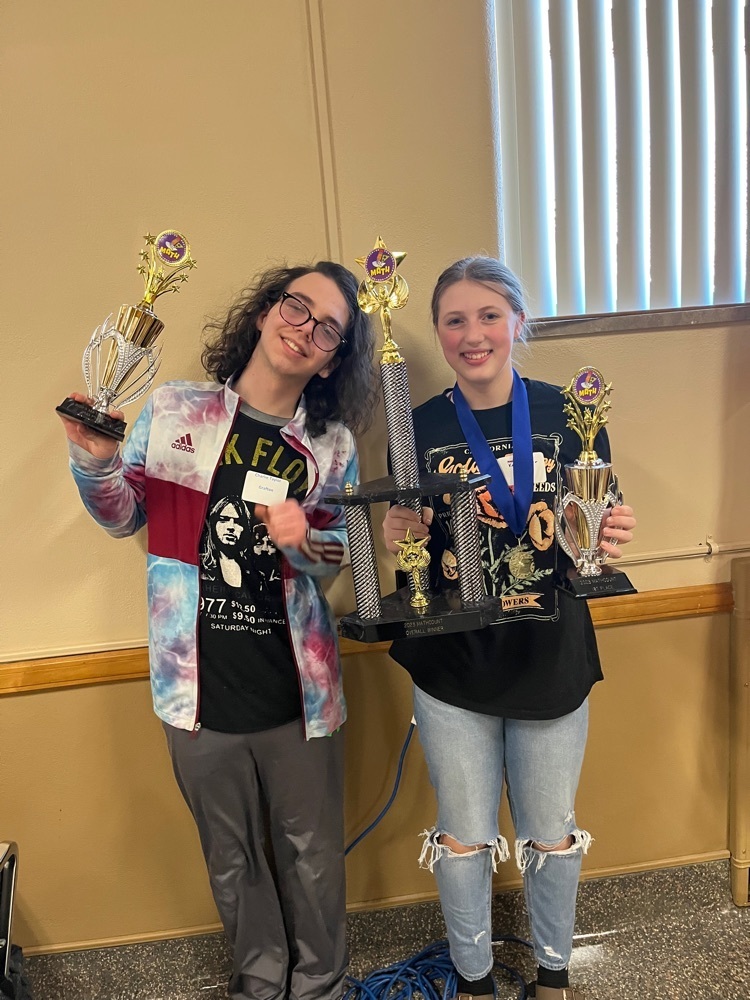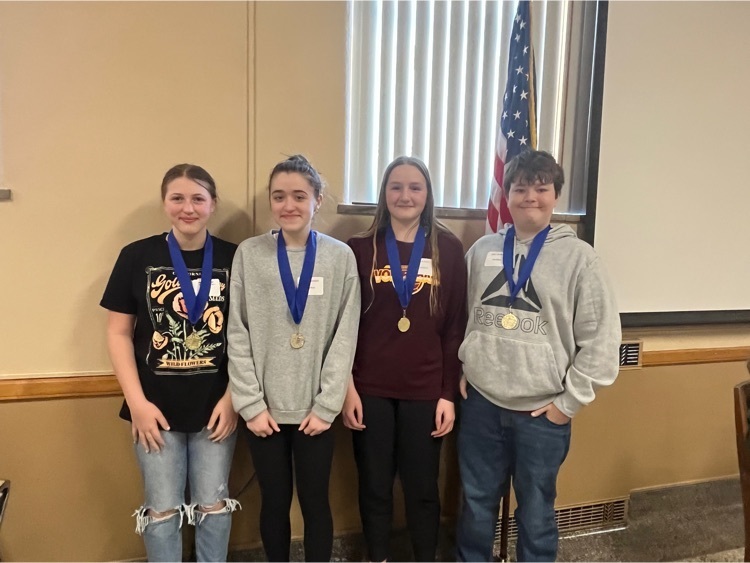 These Spoiler mathematicians are ready to compete today in the Walsh-Pembina County MathCounts competition! It's cold outside, but the competition will be heated. Good luck Spoiler Mathletes!!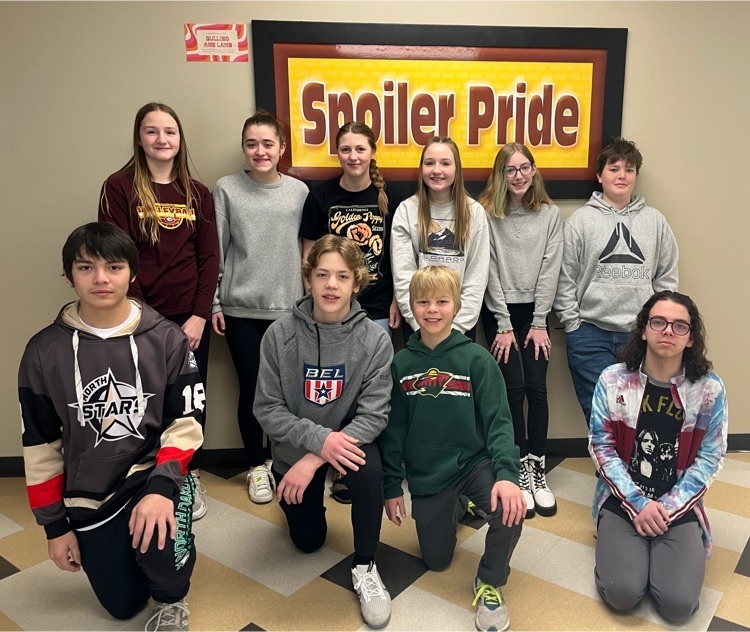 Congratulations to Brooklyn Christinson, Jackson Douville, Alyssa Heidt, Luke Heidt, Jesly Hernandez, Fadil Jamal, Cadence Kerner, Jaelyn Monson, and Max Sillers for competing in the school spelling bee. A special congratulations to our top four finishers (Max, Cadence, Luke, and Alyssa) for qualifying for the county spelling bee.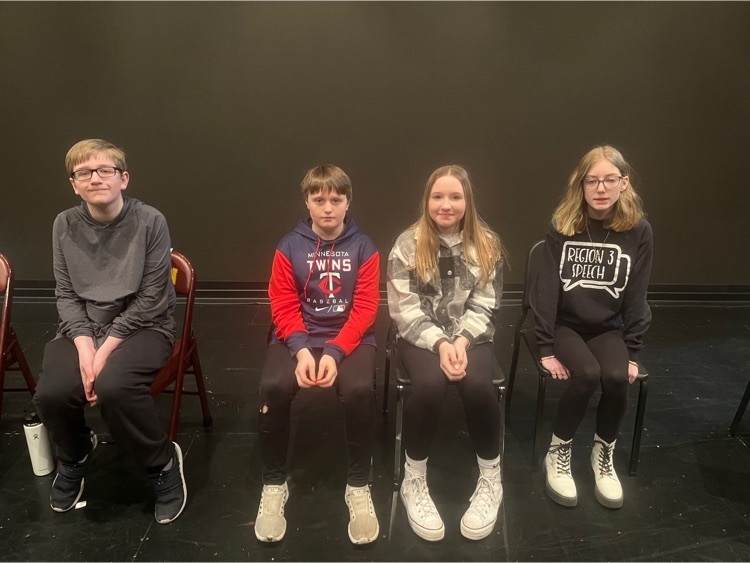 Check out this summer opportunity for 6th, 7th, and 8th grade students at the University of North Dakota!